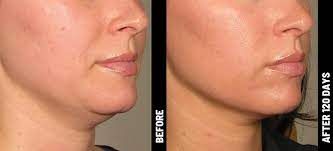 What is Ultherapy?
Ultherapy is a non-invasive procedure that uses ultrasound energy to target the skin's deep tissues to tighten them. The ultrasound energy penetrates to a level of 5mm of depth below the skin's surface; ultrasound energy reaches a deeper level than lasers! Being able to reach these levels because that is where the collagen production occurs. Ultherapy has been scientifically proven to stimulate collagen production and is the only non-invasive procedure to be cleared by the FDA to the chin, neck, and brow areas while smoothing out wrinkles and fine lines in the chest area.
The doctor will use ultrasound imaging to guide the therapy and target the areas that need the most ultrasound energy therapy. Some patients see instant results but this therapy really targets the deep production of collagen which is used by the body to keep the skin tight and hydrated, resulting in a young and refreshed look. The results will continue to improve over the next year and will last for up to two years.
When is Ultherapy recommended?
Ultherapy is an ideal procedure for any patient who is interested in reducing the appearance of wrinkles and fine lines in the area of the eyebrow, neck, décolletage, and under-chin areas. This is a good alternative for patients who are not eligible for a surgical facelift procedure, do not want to undergo surgery, or want to delay surgery for a few years. This procedure targets the same muscle that is manipulated in a surgical facelift. Ultherapy also smooths out fine lines and wrinkles in the chest area.
Unlike surgical facelifts, young patients (under 30 years of age) are eligible for this procedure as a preventative measure.
Ideal candidates will have mild to medium skin laxity and will be generally healthy individuals.
To learn more about ultherapy and what it can do for you, contact us to schedule a consultation!
We Are Here For You
Be certain that you are in the best hands of highly skilled, experienced, and dedicated healthcare providers. Relax and allow us to provide you with the highest level of care from the moment you walk through our doors. If you want to ask any additional questions or have any special requests, do not hesitate to let us know, we are here for you.